October 20 - 21, 2018
Saturday – Sunday
9:00 AM - 6:00 PM
Website
dipsydoodleantiquesandmore.com
Location
Dipsy Doodle Antiques and More
27 Panter Dr
Dahlonega, GA 30533
Contact Name:
Kym Strom
Phone:
706-867-4908
Web site:
dipsydoodleantiquesandmore.com
Gold Rush Fall Festival will bring thousands of visitors to the small town of Dahlonega. The actual festival will be held in downtown Dahlonega and will have hundreds of vendors as well as our regular businesses.
Dipsy Doodle is just a few miles off the square and we will host an "Avoid the Crazy" event. The store will be open special hours from 900am-600pm.
All day Saturday October 20th we will have Special classes and Demonstrations from our talented instructors. There will be free refreshments.
All day Sunday October 21st there will be free refreshments and Meet the Dealers.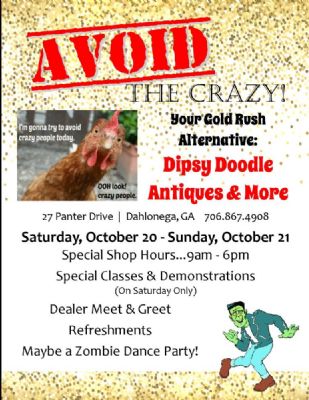 ---
Send Email to Event Contact
---
Member Comments…
---
7F35D6D5-405C-4185-BE89-6E31EEB60000