September 22, 2019
Sunday
10:00 AM - 3:00 PM
Website
GurleyAntiqueshows.com
Location
Boxborough Regency Hotel
242 Adams Place
Boxborough, MA 01719
Contact Name:
Rachel
Phone:
207-396-4255
Web site:
GurleyAntiqueshows.com
Fine 18th and 19th Century Antiques, American, textiles, primitives, ceramics, and folk art.
$8. per person.
gurleyantiqueshows.com
Find us on FACEBOOK!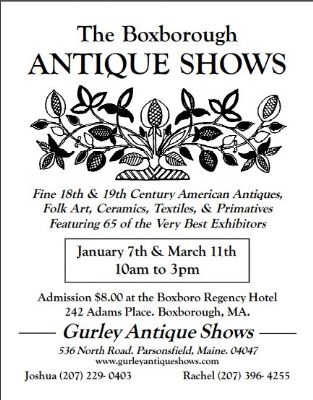 ---
Send Email to Event Contact
---
Member Comments…
---
E0F61417-EFCE-4C89-A3A5-6ABF95D3ABE8
Some store and show hours may vary due to the Coronavirus/COVID-19. Please call before visiting.