October 19, 2019
Saturday
10:00 AM - 6:00 PM
Location
Dipsy Doodle Antiques and More
27 Panter Dr
Dahlonega, GA 30533
Contact Name:
Dipsy Doodle Antiques
Phone:
7068674908
Are you coming to Dahlonega, GA for Gold Rush Days? If there are too many people, than come to Dipsy Doodle Antiques & More for our annual "Avoid the Crazy" celebration. There will be special deals and sales, refreshments and dealer meet and greet. We will also have a furniture painting class going on in the classroom. Inside and outside will be furniture sales galore. All this happens on Saturday, October 19, 2019 from 1000am - 600pm at Dipsy Doodle Antiques & More.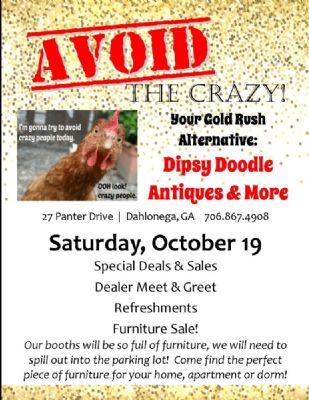 ---
Send Email to Event Contact
---
Member Comments…
---
77F62431-053A-44A9-B503-D6446C080936
Some store and show hours may vary due to the Coronavirus/COVID-19. Please call before visiting.