November 20, 2019
Wednesday
2:00 PM - 4:00 PM
Location
Dipsy Doodle Antiques and More
27 Panter Dr
Dahlonega, GA 30533
Phone:
706-867-4908
Join Dipsy Doodle as you make 3 decorated wooden Rustic Packages. These will be a perfect addition to your home this Christmas. The cost is ony $35.00 for all three packages. Call the store or drop by to register.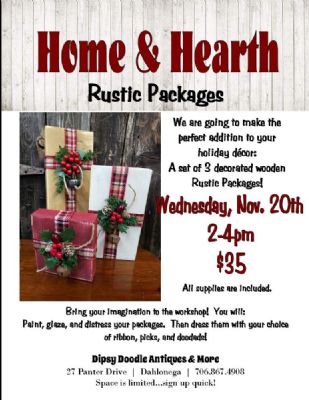 ---
Send Email to Event Contact
---
Member Comments…
---
28CB2EA5-5202-4066-9C10-DD28654B998C
Some store and show hours may vary due to the Coronavirus/COVID-19. Please call before visiting.