March 8, 2020
Sunday
2:00 PM - 5:00 PM
Location
Dipsy Doodle Antiques and More
27 Panter Dr
Dahlonega, GA 30533
Contact Name:
Dipsy Doodle Antiques
Phone:
7068674908
Dipsy Doodle Antiques and More are offering this popular class again. You will complete a 12' x 12' or 24' Wood Barn Quilt Painting at your class. This class will also be taught on Sunday, March 8, 2020 from 2:00pm -5:00pm. The cost is only $25.00 for a 12' x 12' or $45.00 for a 24' x 24' with all supplies included. Please call the shop at 706-867-4908 to register.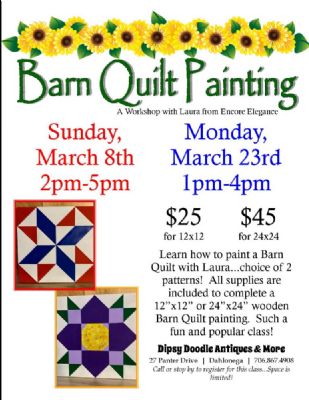 ---
Send Email to Event Contact
---
Member Comments…
---
8798C2B5-7C79-4F84-81C9-C4064E9DD09A
Some store and show hours may vary due to the Coronavirus/COVID-19. Please call before visiting.