January 19, 2020
Sunday
2:00 PM - 3:00 PM
Location
Dipsy Doodle Antiques and More
27 Panter Dr
Dahlonega, GA 30533
Contact Name:
Dipsy Doodle Antiques
Phone:
7068674908
Join Dipsy Doodle Antiques & More Beauty with Essential Oils. You will create Glow Face Serum, Mermaid Hair Spray and Liquid Sunshine Facial Toner. Class is only $25 which includes all supplies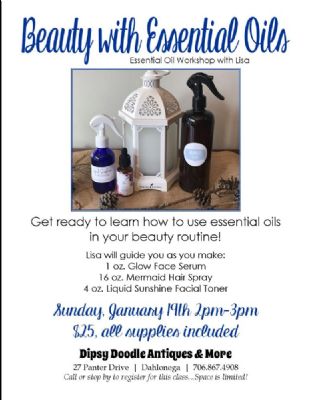 ---
Send Email to Event Contact
---
Member Comments…
---
0400D192-9324-43CD-8FBE-982C34C19ED6
Some store and show hours may vary due to the Coronavirus/COVID-19. Please call before visiting.