February 25, 2020
Tuesday
7:00 PM - 8:00 PM
Location
Dipsy Doodle Antiques and More
27 Panter Dr
Dahlonega, GA 30533
Contact Name:
Dipsy Doodle Antiques
Phone:
706-867-4908
Shop from your seat, not your feet. Join Dipsy Doodle Antiques and More for its Facebook LIVE Sale event. Follow Dipsy Doodle Antiques and More on FACEBOOK for our LIVE Sale. This will be a LIVE Stream on our Facebook page starting at 7:oopm on Tuesday, February 25, 2020. Join us for the fun and hilarity while purchasing great items. Just LIKE our FACEBOOK page and join us for the event. Any questions, just call the store at 706-867-4908 for more details.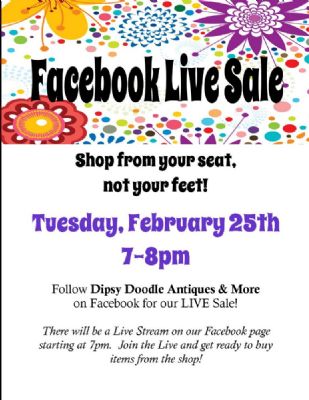 ---
Send Email to Event Contact
---
Member Comments…
---
98A67AB8-2073-46DC-8817-CE0CD7C64758
Some store and show hours may vary due to the Coronavirus/COVID-19. Please call before visiting.